A THEFT OF PRIVILEGE: Harvard and the Buried History of a Notorious Secret Society

HCV members who were fortunate enough to attend the event in February 2020 with Larry Vincent will be interested to know that "A Theft of Privilege' has now been released. Details can be found below or by clicking here.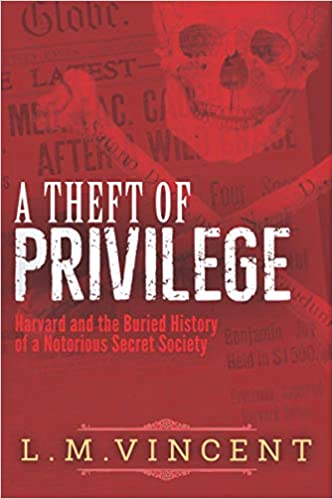 A THEFT OF PRIVILEGE tells the story of the infamous Harvard secret society known as the Med. Fac., and in particular, the events surrounding its dissolution in 1905.

A very "Harvard story," it's a tale of privilege at the closing of Harvard's Gilded Age, when social stratification and a burgeoning democratization came into fierce conflict.




When asked about the book and how it came about, Larry tells HCV:

I stumbled upon the Med. Fac. records while nosing around in the Harvard Archives and was initially surprised that no one had given them serious attention since their unsealing in 1976. Handwritten, nearly illegibly and often non-chronologically—with portions in a very dodgy Latin—they required considerable tenacity both to decipher and to place in a proper historical context. It was a daunting task that involved many months of frustration and eyestrain.

But I was immediately hooked on the tale, particularly once I discovered that the Society's records and trophies were stored for decades in a trunk in "Old Doc" Burnett's basement, a short distance from my house in Manchester, Massachusetts. And then I learned that not only was Burnett a member of the esteemed Lowell family, but that his younger self was the rapscallion who blew up the Old College Pump in 1901. Like other "doctors" in the Med. Fac., he was a scion of a prominent New England family and a "smart set" member of an elite final club. Some were top varsity athletes, several joined Theodore Roosevelt's Rough Riders, and many went on to illustrious careers in business, finance, politics, and medicine, where their tolerance as adults for college shenanigans demonstrated "the power of sentiment for even bad traditions."

Eighty years have passed since the last letter cited from Med. Fac. correspondences, and copyright restrictions expired; thus, the Harvard Archives was able to grant permission for the publication of my work.

A THEFT OF PRIVILEGE is now available as a trade paperback through Amazon.com.au.
https://www.amazon.com.au/gp/product/B08KH3S5ZL?pf_rd_r=15NS7PAS35CBF9ZF5HEZ&pf_rd_p=d6df8f50-50c9-43f1-980f-106d5c4127a5